The Connoisseur's Guide to Oyster Eating in North America
Winner, James Beard Award
Finalist, International Association of Cookbook Professionals Book of the Year
Amazon.com Editor's Pick: Best Food Books of the Year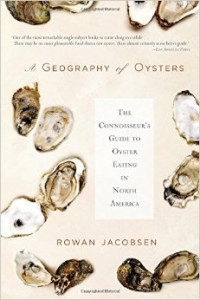 In this passionate, playful, and indispensable guide, oyster aficionado Rowan Jacobsen takes readers on a delectable tour of the oysters of North America. Region by region, he describes each oyster's appearance, flavor, origin, and availability, as well as explaining how oysters grow, how to shuck them without losing a finger, how to pair them with wine (not to mention beer), and why they're one of the few farmed seafoods that are good for the earth as well as good for you. Packed with fabulous recipes, maps, and photos, plus lists of top oyster restaurants, producers, and festivals, A Geography of Oysters is both delightful reading and the guide that oyster lovers of all kinds have been waiting for.
Table of Contents (PDF)/ Introduction (PDF)
Explore my OysteRater website (think Yelp for oysters) and the Oyster Guide Blog.
Reviews
"One of the most remarkable single-subject books to come along in a while…Jacobsen covers oysters in exhaustive detail, but with writing so engaging and sprightly that reading about the briny darlings is almost as compulsive as eating them…this book will improve your oyster eating immeasurably…There may be no more pleasurable food than a raw oyster, there almost certainly is no better guide."—Los Angeles Times
"If you've been the slightest bit curious about oysters or want to expand your bi-valved horizons, A Geography of Oysters has your name all over it…. Written in an accessible style by a hard-core ostreaphile, A Geography of Oysters is a fun read, inviting you to join Jacobsen on his quest for an oyster-rich life. Yes, please!"—Washington Post
"The ultimate macropedia for oysters." —Publishers Weekly, starred review
"A wide-ranging, thorough, breezily written guide to oysters as cuisine…Jacobsen leads with his fearless palate every time."—Boston Globe
"A Geography of Oysters has oyster prose leaping off the page and into the oyster-lover's imagination. It is a great read…a must-have for my library…I've never met Rowan Jacobsen, but we are brothers under the skin."—David Rosengarten, The Rosengarten Report
"The oyster has an appeal that is unique and perfectly captured by food writer Rowan Jacobsen."—Wall Street Journal