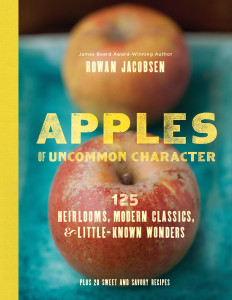 "Excellent" —New York Times
"Stunning" —Seattle Times
"Supremely well executed and written. If you are one of those foodies who actually likes to read, this one's for you." —Christopher Kimball, host of America's Test Kitchen
"Opening the pages of Apples of Uncommon Character is like walking into a portrait gallery flooded with russet, bronzed masterpieces bathed in golden light — forget about Magritte's Granny Smith-bedecked Son of Man, here are the Winesap, the Pound Sweet, the Maiden's Blush and Black Twig, rendered in a vivid prose rarely seen outside of the wine list… For anyone who's willing to get swept up in the grand romance of food, this handsome volume will make for seductive reading." —Morning Edition
"The most gripping aspect of James Beard Award winner Rowan Jacobsen's Apples of Uncommon Character is the author's loving, quirky, and so-vivid-it's-like-you're-eating-one-right-now descriptions of 123 different apples." —Bon Appetit
"Beautifully photographed…tells the stories behind familiar and exotic varieties and describes their origins, flavors, textures, and uses." – Boston Globe
"A true delight… The descriptions are almost lyrical and a pleasure to read. Each apple comes with its own full-page photo, beautifully shot in natural light…I love the surprising readability of this book. It should be tucked into the backpacks of all apple festival goers. I really can't recommend this book enough." —Powells.com
"Like Facebook for fruit." —NPR
"Do people keep life lists of the apples that fall into their lives, akin to the records birders maintain? I'm thinking of starting one, based on my time spent with Rowan Jacobsen's just-released Apples of Uncommon Character." —Washington Post
"Irresistible" —Wall Street Journal
"Imagine my delight when the book Apples of Uncommon Character landed in my mailbox, a glorious compendium of "123 heirlooms, modern classics, and little-known wonders."  Author and self-described apple geek Rowan Jacobsen does for apples what he did earlier for oysters: he captures in vivid language what makes the flavor of each type unique (with extraordinary photographs by Clare Barboza you want to bite into).  —Melissa Block, All Things Considered
"Both informative and laced with humor." – Portland Press Herald
Seven years ago, in his James Beard Award-winning classic A Geography of Oysters, Rowan Jacobsen changed the way America thought about its best bivalve. Now, he does the same for our favorite fruit. The apple is the most diverse food plant in the world. A century ago, 16,000 varieties existed in the United States alone. Today, thanks to industrial agriculture, only a handful appear in most grocery stores, but hundreds of the most interesting varieties still exist, and now, with a new apple renaissance under way, many are making a comeback. From the explosively crisp Pixie Crunch to the dark and moody Kingston Black, from the lychee-scented King of the Pippins to America's oldest apple, the Roxbury Russet, and from the shy, delicate Maiden's Blush to the massive Wolf River, Jacobsen introduces you to 123 of the most exotic, colorful, delicious, mysterious, and downright strange apples you will ever meet. Some have played key roles in American history. Some have languished in obscurity for decades, then swept to national dominance, only to be knocked off by the new apple on the block. Some deliver flavors no Red Delicious ever dreamed of. And some are coming soon to a market near you with brand-new surprises up their sleeves. Jacobsen profiles the best and the brightest, the oddballs and the old veterans, and through their stories, tells the story of the apple in America. With their incredible diversity, apples once empowered Americans to make some of the finest wines, brandies, vinegars, desserts, and savory dishes in the world. They were a year-round well of creativity for farmers, home cooks, and chefs. Through its profiles, stunning photography, recipes, resource section, and explorations of the worlds of cider, apple breeding programs, and heirloom "apple detectives," this apple bestiary reveals a world every bit as magical today as it was two centuries ago. Photographs by Clare Barboza. A few tastes:
The latest apple from the storied apple breeding program at Cornell. This is the Old Guard of the apple world, which has tended to give its apples bombastic names like "Liberty" and "Empire." Names that were not market-tested. Meanwhile, the upstarts at the University of Minnesota apple breeding program seem to name their apples after strippers: "Sweet Sixteen, Frostbite, Honeycrisp, SweeTango." Guess whose apples are more popular? Well, in 2009 the Cornell team finally got on the bandwagon with Autumn Crisp. The apple is a dead ringer for Honeycrisp: Its cells shatter when you bite into it, like an apple-flavored Cheeto, spraying juice everywhere and leaving you with a mouthful of apple water. It is wicked fun to eat, if not especially profound.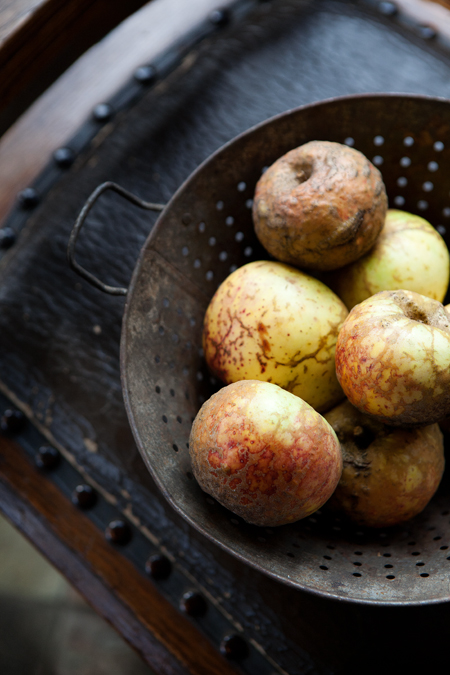 Here is an apple that is most definitely not wicked fun to eat. The Knobbed Russet looks like the love child of an apple and a potato, or maybe a toad. That gnarled russet surface scares most people away, and tastes like gnawing on a twig, but once you peel this apple it's actually quite tasty, sweet and nutty with a white-grape tartness. But the only thing that explains why it has been in cultivation since 1819, when it was first spotted in Sussex, England, is the freak-out-your-neighbors appeal of the thing.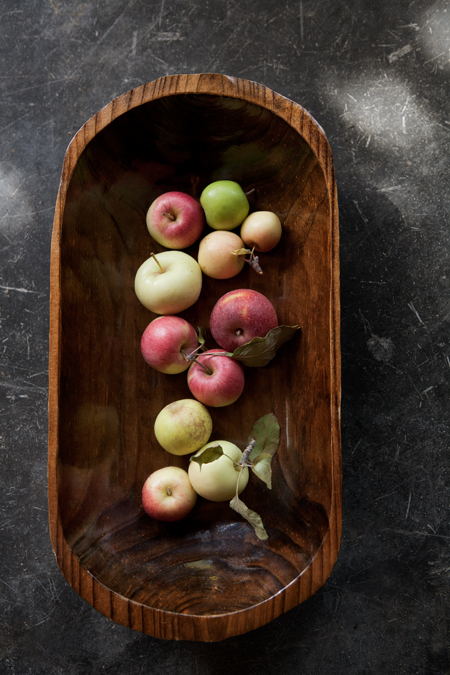 In Kazakhstan, on the flanks of the Tian Shan ("Heavenly Mountains") is the real Garden of Eden: fruit forests that stretch for miles. In places, three-quarters of the trees are apple trees. This is the place from which all our domestic apples originated. These are the wild wolves that met humans and transformed themselves into so many unlikely dogs. In the case of the apples, it was the Silk Road that skirted the Tian Shan and first brought traders into contact with the fruit. Today, you can still wander those forests in fall, the air full of spicy apple scents, and see little orbs of every color hanging in the trees like ornaments. Every flavor, shape, and color you can imagine in an apple lurks somewhere in those forests, as well as important genes for disease resistance and other useful tricks. They should be a UNESCO World Heritage Site. Instead, they are being felled to make room for oil tycoons' dachas. A sad story I won't get into here. (But do in the book.)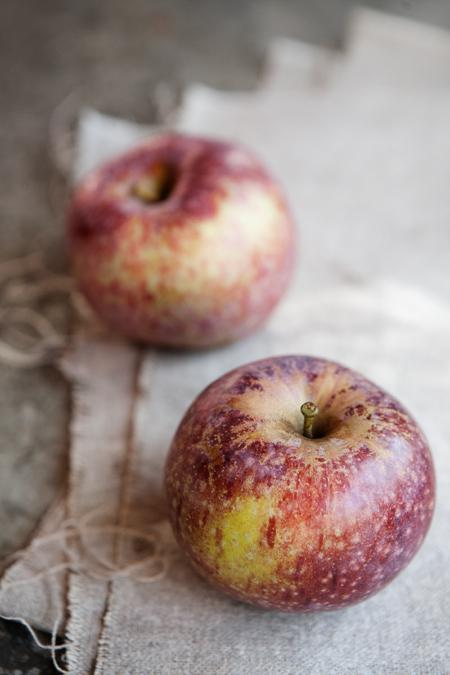 The Blue Pearmain is one of the classic old-timey New England apples. A taste of one will make you realize how threadbare our popular apples have become when it comes to interesting flavors. It was one of the only cultivated apples Thoreau approved of. The flavor is all pear and melon and fig, with a touch of hard-charging kiwi brightness to keep things from getting cloying. To me, the look of the Blue Pearmain is half the pleasure. It starts in September as an impressionist's masterpiece of swirling reds, oranges, and yellows, then, as fall goes by, it deepens into a dark burgundy with blackish streaks and a powdery blue bloom over the surface, as if night was falling and the last colors were draining from the sky. Every one is like eating an original work of art.