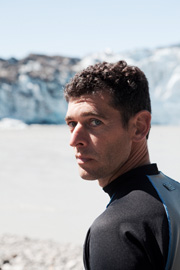 Rowan Jacobsen is the author of A Geography of Oysters, Fruitless Fall, The Living Shore, American Terroir, Shadows on the Gulf, and Apples of Uncommon Character
. He has written for the New York Times, Harper's, Outside, Mother Jones, Orion, The Boston Globe, and others, and his work has been anthologized in The Best American Science & Nature Writing and Best Food Writing collections. He has won a couple of James Beard Awards, an IACP award, and some others. His Outside Magazine piece "Heart of Dark Chocolate" received the Lowell Thomas Award from the Society of American Travel Writers for best adventure story of the year, and his Harper's piece "The Homeless Herd" was named best magazine piece of the year by the Overseas Press Club. He was an Alicia Patterson Foundation fellow, writing about endangered diversity on the borderlands between India, Myanmar, and China, and is a 2015 McGraw Center for Business Journalism Fellow, writing about the disruptive potential of plant-based proteins. Apples of Uncommon Character
 was named to the Best Books of 2014 lists by the Washington Post, Wall Street Journal, Boston Globe, NPR, and others.
New Stuff:
Pushing the Limits with Montreal's Underground Tea Connoisseurs. (from VICE)
Savoring the steampunk vibe at Stellafane, the amateur telescope makers convention (from Yankee)
The 20 New Rules of Oyster Eating (from Lucky Peach)
Discussing "fake meat" with Tom Ashbrook on ON POINT.
Will the Beast Burger put Beef Out of Business? (from Outside). Selected for Best Food Writing 2015
The Great Mayo Smackdown (from Mother Jones)
Restoring a River and a Community in Yuma, Arizona (from Orion). Selected for Best American Science & Nature Writing 2015
Paddleboarding the Colorado River Delta (from Outside)